The 16th annual Delta Awards, recognizing tourism achievement in Eastern Arkansas, were presented last Friday during festivities at the Brinkley Convention Center. The Tour duh Sunken Lands, a cultural bike ride that brings participants to several attractions in Poinsett and Mississippi Counties each year, won the Boot Strap award.
Put on in November by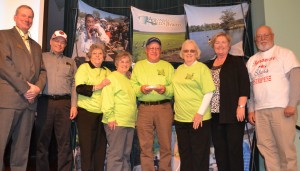 the Sunken Lands Chamber of Commerce, the Tour duh Sunken Lands is an annual 52-mile touring/cycling event highlighting cultural sites in the Sunken Lands in Northeast Arkansas. Stops include the Southern Tenant Farmers Museum at Tyronza, Dyess Colony Museum and Johnny Cash Boyhood Home at Dyess, Rivervale Tunnels, the Painted House at Lepanto, and the Marked Tree Delta Area Museum with an after-ride meal at Tyboogie's Cafe at Tyronza. Hot soup is served at the Painted House, and drinks and snacks are served at all other stops. The chamber began the bike ride in 2009 as a way to include the Sunken Lands' many cultural sites in a yearly event.
"It was such an honor for the Tour duh Sunken Lands to win this award," said Sunken Lands chamber member Linda Hinton. "This ride has grown over the past seven years, and it is because of the wonderful workers and volunteers. We have had riders from Arkansas, Tennessee, Illinois, Mississippi, Texas, Pennsylvania, and Missouri. The Sunken Land Regional Chamber members have created this touring ride as a way to focus on our local cultural heritage as well as giving the riders a good dose of Delta hospitality!"
This year's ride will be on Saturday, Nov. 5. For more information about registering for the ride, visit www.facebook.com/tourduhsunkenlands or www.sunkenlands.com.
First published here.