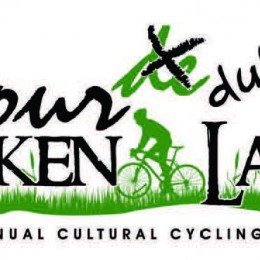 TYRONZA, Ark. – The seventh annual Tour duh Sunken Lands bicycle tour is set for Nov. 7, 2015, and includes two new features for riders on the 50-mile cultural cycling event.
Added to stops at local museums and nationally known tourist sites, the ride concludes with an Americana "blue plate" dinner at regionally acclaimed restaurant Tyboogie's in Tyronza. Also, a warming soup is available for riders near the half-way point at the Painted House in Lepanto.
The ride begins and ends at the Southern Tenant Farmers Museum in downtown Tyronza at 10 a.m. Registration is $45 per rider prior to Oct. 1 — $50 after Oct. 1 – and includes admission to all the museums along the 50-mile path, which serve as rest stops.
Once again, the world-renowned Johnny Cash Boyhood Home is among the tour stops. Along with experiencing the unique geography of Poinsett and Mississippi counties that resulted from the nation's greatest earthquake, riders can visit the A-State Heritage Site at Dyess Colony, the Painted House featured in the Lifetime movie of the John Grisham novel in Lepanto, the Marked Tree Area Museum and the Rivervale Siphons.
Registration for the event is online now at AState.edu/SunkenLands. Museum admissions, the post-ride meal, and t-shirt are included in the registration fee.
Proceeds from the event benefit programs of the Sunken Lands Chamber of Commerce.
For more information, visit the Southern Tenant Farmers Museum website at STFM.AState.edu and click on events.