Tour duh Sunken Lands Map & Stops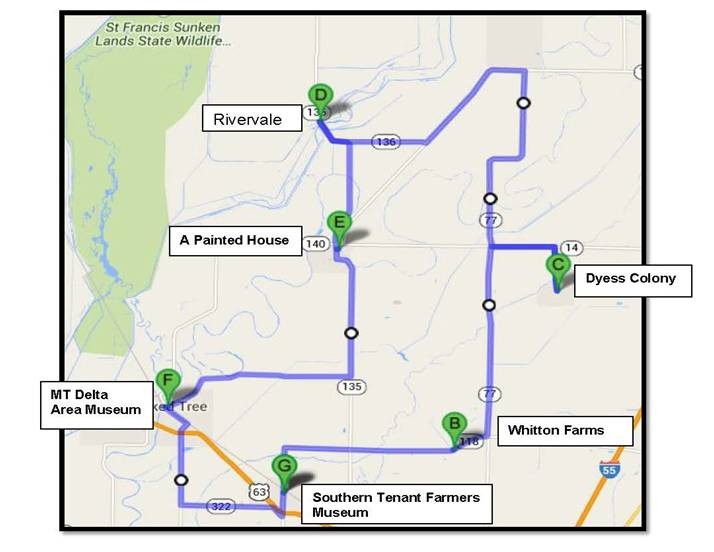 Tour duh Sunken Lands Stops
1.      Ride begins and ends at 117 Main Street at Tyronza, AR (G)–Southern Tenant Farmers Museum. The museum will be open at 8:00 for all early visitors to tour the museum and will remain open until all riders are back from the touring ride. This museum is housed in the original headquarters of the Southern Tenant Farmers Union (STFU) organized in 1934 as the first integrated agricultural union in the nation.
2.      Stop 2 is at "B"—Whitton Farms. There are no tours here but feel free to look at the farm. The owners of this farm will be serving some of their home grown vegetables at the evening meal at their Tyboogies Café at Tyronza.
3.      Stop 3 will be at "C"–Dyess. The Dyess Administration Building houses the museum that tells about the creation of Dyess Colony, Colony life, Johnny Cash's family and Gene Williams. After the museum visit, a bus will take you to the Johnny Cash boyhood home.
4.      Stop 4 is at "D"–Rivervale Tunnels. To the naked eye, it appears that the site is just of a river with a bridge over it. However, under the water is a group of concrete tunnels where a river is flowing under another river. This was created in the 1925 as a way to prevent flooding in the area.
5.      Stop 5 is at "E"–the Painted House. This is the actual house that was used in the movie "The Painted House" based on John Grisham's novel by the same name. Soup will be served in the barn for all of the riders. Enjoy a warm up and get ready for the last leg of the ride.
6.      Stop 6 is at the Marked Tree Delta Area Museum at Marked Tree. This museum houses a collection of Native American artifacts from the local area that at one time had a large Native American population. Ask the friendly ladies how the city got it's name!
7.      After the ride, enjoy the evening meal at Tyboogie's. Meal tickets can be picked up at the time of registration or can be held for you at the Southern Tenant Farmers Museum until the end of the ride. All riders receive one meal ticket with their registration.