Plan Your Visit
Museum Hours
Tuesday-Saturday: 9:00 a.m. – 3:00 p.m. 
Special arrangements may be made for Mondays or after hours tours. Please call the museum for details.
Admission (Please note that we cannot accept credit cards; cash only.)   
General – $5 donation per person.
Groups, Seniors 65+, and children – $3 donation per person.
Arkansas State University students – Free with ID
Holiday Closings
January: New Years' Day (Closed)
May: Memorial Day (Closed)
July 4: One day only (Closed)
September: Labor Day (Closed)
November: Closed for Thanksgiving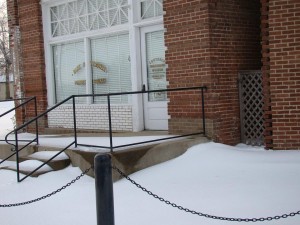 December: Closed for Christmas
Inclement Weather: The Museum will be closed if the East Poinsett County School District is closed.
How to Get Here
This map shows the location of the Southern Tenant Farmers Museum in Tyronza, Arkansas.
Traveling from Jonesboro, Arkansas
| | |
| --- | --- |
| 1 | Get on US 49N/US-63 S from Union St, S Main St and Harrisburg Rd |
| 2 | Head west on Cate Ave toward S Main St |
| 3 | Turn left onto Union St |
| 4 | Turn left onto W Oak Ave |
| 5 | Take the 1st right onto S Main St |
| 6 | Turnleft onto E Highland Dr |
| 7 | Take the 1st right onto Harrisburg Rd exit |
| 8 | Turn left 139B to merge onto US 49 N/US-63S |
| 9 | Follow US-63 S to AR-118 N/S Main St in Tyronza. Take exit 8 from US-63 S |
| 10 | Merge onto US 49 N/US-63 S |
| 11 | Continue onto US-63 S |
| 12 | Take exit 8 toward Tyronza |
| 13 | Merge  onto AR-118 N/S Main St |
| 14 | Destination will be on the left |
Total: 38.9 mi – about 40 mins
Traveling from Memphis, Tennessee
| | |
| --- | --- |
| 1 | Get on I-40 W |
| 2 | Follow I-40 W, I-55 N and US-63 N to S Main St in Tyronza. Take exit 8 from US-63 N |
| 3 | Merge onto I-40 W |
| 4 | Entering Arkansas |
| 5 | Keep right to continue on I-55 N,follow signs for Blytheville/Jonesboro |
| 6 | Merge onto I-555 |
| 7 | Continue onto US-61 S |
| 8 | Continue onto US-63 N |
| 9 | Follow US-63 S to AR-118 N/S Main St in Tyronza. Take exit 8 from US-63 S |
| 10 | Merge onto US 49 N/US-63 S |
| 11 | Continue onto US-63 S |
| 12 | Take exit 8 toward Tyronza |
| 13 | Merge onto AR-118 N/SMain St |
| 14 | Destination will be on the left |
Total: 34.1 mi – about 33 mins
Traveling from Little Rock, Arkansas
| | |
| --- | --- |
| 1 | Get on I-30 E in Little Rock from W 3rd St |
| 2 | Head north on State Capitol toward Capitol Mall |
| 3 | Turn right onto Capitol Mall |
| 4 | Turn the 1st left onto State Capitol |
| 5 | Take the 1st right onto W 3rd St |
| 6 | Turnleft onto Cumberland St |
| 7 | Slight right to merge onto I-30E |
| 8 | Follow US-67 N to AR-14 E in Union. Take exit 80 from US-67 NS |
| 9 | Merge onto I-30 E |
| 10 | Keep right at the fork, follow signs for Interstate 40 E and merge onto I-40 E |
| 11 | Keep left to continue on US-167 N/US-67 N,  follow signs for Jacksonville/L.R.A.F.B |
| 12 | Continue to follow US-67 N |
| 13 | Take exit 80 for AR-14 E/AR-224 toward Jonesboro |
| 14 | Get on US-63 S in Little River |
| 15 | Turn right onto AR-14 E |
| 16 | Turn right to stay on AR-14 E |
| 17 | Turn right to merge onto US-63 S |
| 18 | Follow US-63 S to AR-118 N/S Main St in Tyronza. Take exit 8 from US-63 S |
| 19 | Merge onto US-63 S |
| 20 | Take exit 8 toward Tyronza |
| 21 | Merge  onto AR-118 N/S Main St |
| 22 | Destination will be on the left |
Total: 141 mi – about 2h, 18 mins
Traveling from St. Louis, MO
| | |
| --- | --- |
| 1 | Get on I-55 S from S Tucker Blvd |
| 2 | Head east on Market St toward N Tucker Blvd |
| 3 | Take the 1st right onto S Tucker Blvd |
| 4 | Continue onto Gravois Ave/Historic U.S. 66 W |
| 5 | Turn left to merge onto I-55 S |
| 6 | Follow I-55 S to Scott. Take exit 34 from I-55 S |
| 7 | Merge onto I-55 S |
| 8 | Entering Arkansas |
| 9 | Take exit 34 for AR-118 toward Joiner/Tyronza |
| 10 | Drive to AR-118 W in Tyronza |
| 11 | Slight right toward AR-118 W |
| 12 | Turn right onto AR-118 W |
| 13 | Destination will be on the right |
Total: 260 mi – about 3h, 49 mins